Gotta do this page because, BTS...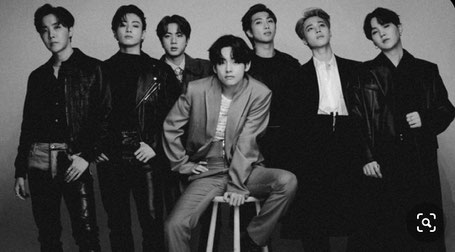 During this recent Mischief journey, BTS has captured my respect and awe.
They are so fun, good, crazy, creative, and wickedly talented.
Each and altogether. Their body of work and the time they've been around alone would demand respect...
Considered 3rd gen KPop, with well over 200...tunes,
First in lots of areas. First in avid fans...
BTS, intent on global awareness, and succeeding.
---
 Sooo...
I am over the moon here, spring 2021.
(After BTS on MTV Unplugged.)
And BTS put me there...
Fix You by Coldplay. A fav song.
BTS in a slow and harmony filled cover.
Thanks guys.
BTS offers up so many things to be thankful for...
Since they're sitting on stools in the vid, from left
 Jimin, Jungkook, Suga, Taehyung (V), J-Hope, Jin, RM
(They are usually moving around. A lot.)
The original is good. And it has some good covers.
Now BTS...
---
It took me a while to sink into the Bangtan Boys...
I had seen them on a talk show or two, watched a few of their who-are-we videos on Youtube, around the time I was beginning KDramas and pursuing KPop music videos of Big Bang, Exo and others (see pg 2 if you want) 
I call those vids Compilations. They are snippets of action, music - can be history, top dancer, funniest moments, group dynamics...
And a few of BTS  songs made it onto my Youtube random mixes that I listened to a lot on my errands and while busy with projects. Nice.
But I was pursuing edgy wild stuff, like Exo's Lotto and Big Bang's Monster, GDragon's Crooked. Drawn by the pace, the moves, the crazy styles, the great music. Mesmerized.
Focused, committed, all out energy. In charge. 
I was looking for enough headbanging energy  to  crowd out some inner pain. And BTS seemed to have a light touch, too sunny for my mood. 
However...
One day I heard, and stopped to watch BTS's Fire. Crazy! Crazy enough...
Reminded me of that stage of life where lighting things on fire is an obsession. Excited!
Like boys, thrilled with being cause, fire their effect...
Fierce enough. Watch it again. Put it on a playlist.
BTS moving in. Not always sunny.
---
The action I seem to be after, as a fangirl, is brilliant, touching, efficient, creative.
And gives me a good driving beat, good visuals. And crescendos.
In my eyes. From my perspective.
Music action that is perfect for a situation. My situation.
One night, hunting for gems, I discovered Taehyung.
---
I had watched a comparison vid, with Taehyung of BTS and Taeyong of NCT. Hmmm both good.
And then a vid came up in my Search, about Taehyung's deep voice, I clicked on it. I like deep voices...
It wasn't a music video tho, just Taehyung talking in different situations. And his voice and demeanor were a slow vibe.
His responses were low-key-delivered but bright as fxxk.
Intrigued, I pursued. I wanted to hear him sing. And found two solo MV's...
I listened...
---
Omg.
Everything in me slooooowed right down. Down....
For months my cells had been firing all over.
All day, every day. And the music I was choosing, playlisting, was crazed  and stimulating enough to divert, and cut off at the pass, the hissing responses I was feeling toward my everyday interactions. 
My fxxk off vibe wired, the music expressing it.
And then one night...Sweet Night (see Mischief pg 1, 1st vid) 
and Winter Bear.  On hour long loops.
An evening of uninterrupted, unending time. Exhale....
I lay across my bed, my Bose speaker beside my head.. Unwinding, unraveling.
Altered state.
The words Im in love drifted on my brain waves.
Thanks Tae. Love you.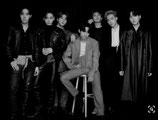 Now, no matter what BTS I'm listening to, watching, I scan to find Taehyung. Listen for his breath voice.
 Ground myself. North star.
And now that I've watched so many of their vids, all these BTS guys have a grounding vibe. Good intentions under every hot move. That's impressive. Brilliant. I'm a fan.
---
Taehyung, known as V, introduces himself, "I'm a good boy." Yep.
You guys heard of FMV's? All sides of Tae. Later...not ready to share. 
His voice duality is not his only quality. 
(Okay, Tae page started! Taehyung too good not to share. There is a buzz around Tae. Fascinating!)
Let's find some good BTS MV's... So many!
---
Okay, which to choose.
Here are two BTS songs that were on MTV Unplugged.
Both are so nice, melodic, full of harmonies and fun, and would have been on my not-right-now-I'm- breaking-things list.
However, they've made it onto a top 20 playlist and I'll stop to watch.
(My Top 20 playlist has close to 100 MV's so far.)
One of BTS's strong directions, from what I can see, is their choice to show all sides of themselves.
And there are lots of vids-MV's and compilations-showing their vulnerabilities and everyday lives.
They really want to reach out and connect...
And connect they do. Their fans are called "Army", and they have impact.
I'm a fan
---
Life Goes On is another tune I have on a loop.
It's a smooth out vibe and good for working on projects...
---
This one was performed at the Grammy's. It's their first completely English lyric song and has taken over world wide. Dynamite. Fun. They were excited! Army too!
---
And for more action and intensity...
These guys can dance.
This, Danger, about those crazy relationship feelings...
And BTS being all hip hop fiery...
---
In my mood I never would have stopped on this, One Day. But BTS puts work and talent into every song/performance... I stop to watch. Love it.
See the white sweaters? lol
Choreography, harmony.
Gotta talk about Rap Monster, soon. RM is the BTS leader. Started in rap, speaks English, represents BTS, was the first. He writes a lot of the songs, the parts, the choreography. Creative, a word guy. Cool.
He looks after all the guys. And has vision.
A steady genius. IMHO
The guy you see first here. And rapping at 2:15...
If you don't know...
---
That'll do for now.... Got that army fangirling out of my system to switch back to more sequence.
KPop Generations, 1 and 2, 3, 4...
Held back some of favs for another day, another page of Mischief.
Watching the Grammy's this Sunday.
Hey! Grammy's done now. Boy, was Army pissed that their boys lost and performed last, holding Army "hostage"...
(Interesting) Mostly tho, the fans are nothing but loving, supportive. And BTS grateful...
---
Okayyyy. Ready for more. These two MV's attracted a little attention for content, in this time of Me Too.
And with BTS's general good guy vibe. (They promised they would behave...better.)
In my mood, these would barely be boundary breaking. We like to know these guys have...feelings.
Speaking for myself.
---
War of Hormone! Loved it when I ran across this one. I'm including the lyrics on purpose (although the translation may be a little questionable), just to get the drift. Go guys...
My Where's Waldo game. Can we spot Taehyung? I love how each guy has his own wild following. Fans who stay up at night immersed in their bias. Twitter is full of pages devoted to just one... 
Each worthy. Together, synergy. 
And lots of gg. I'm happy. Distracted.
---
Hey, to get Boy in Luv, maybe you'd have to watch a couple of KDramas in a high school setting (like the Inheritors).
Two moves here common in KDramas, the push against a wall, or lockers here. And the wrist grab. 
In the mood to enjoy the story, not judge it. (Ok, I'm judging it as mood elevating.) And RM at 2:40, dragging chairs. Why do I like that few seconds so much.
Energy of young love, eh?
Intense! And guys give flowers... Sweet.
---
---
Let's cap this page for now with a couple of photos of Taehyung, lullaby guy...
(I've added more now...keep going.)
Hey, the songwriter of the lull ya to sleep solos...shhhh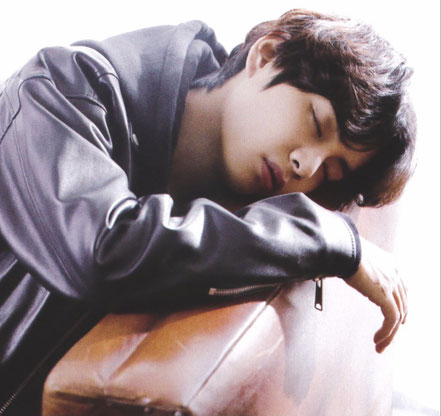 Watched Hwarang, a period piece drama with this talent in it. Just slow vibes his way thru the story. Sweet.
Whuu? with breath.
Fangirl smitten, the more I see and hear, 
Still, fell in luv the first night.
Lit. Fascinating.
I now respond, instant deep cell relaxation thruout my body, when I hear the click of that camera, as Winter Bear comes on, like a hypnosis trigger.
Here's Tae, triggering.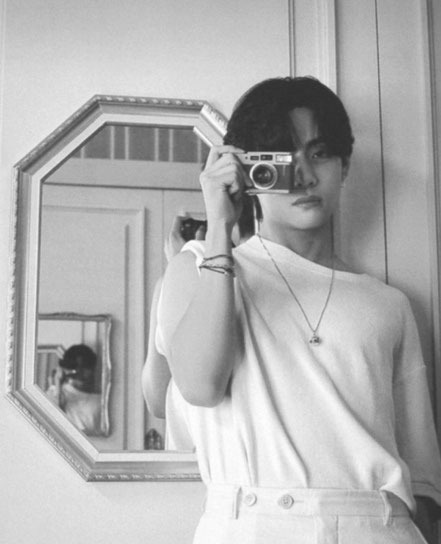 ---
I must. It gets me up... Any time of the day. Airplane Pt 2   And 2 versions. 
The official vid. Lots of flavour....
This one is a live performance. Mischievous
They do many good versions of this! So many versions of so many of their songs.
Official vids, vids of dance practices, of the different concerts (different choreography, outfits, perfomance settings), of their day to day lives, of quiz shows, interviews, TV appearances, awards shows, photoshoots, Twitter posts, Weverse, fan signings. When do these guys sleep. (They do tho. There's vids of them sleeping.)
They are involved in their own song writing, choreography, production. They engage in solo projects, Some of them are in KDrama movies and TV series. They attend online universities. They contribute to charities, begin initiatives like Love Yourself, record holiday messages. Probably saving kitties right now, between dance practices... 
They need the support of the fans, keep them full so they don't deflate from energy output.
Send some breath their way.
I'm turning in. Just feel like I've been super busy, imagining everything they do.
Maybe a little Sweet Night to unwind. 
---
Another day...
Gotta add the two 2021 summer songs, happening now.
Butter still wild on Twitter. Fan sites go crazy on Twitter when anything new comes out. And these tunes and their stellar promotion provided endless opportunities for photos, gifs, fan edits. Some brilliant. 
Just out. Permission to Dance. Just fun. Looks like a celebration, with everything freeing up in some parts of the globe. Covid 19 relief, possible concerts on the horizon. Happy BTS. Toss the masks. Move...
Bring joy, BTS human style...
---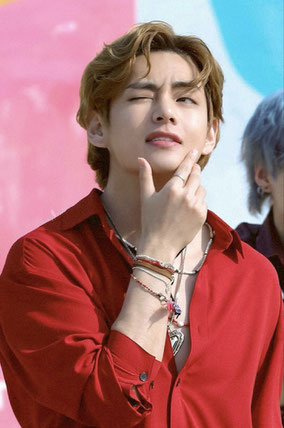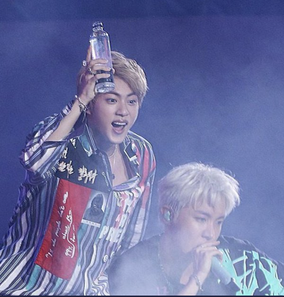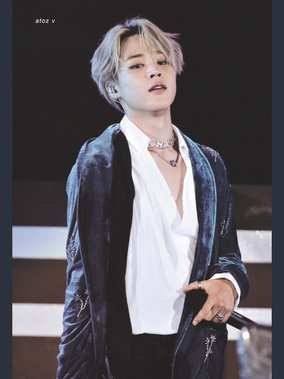 ---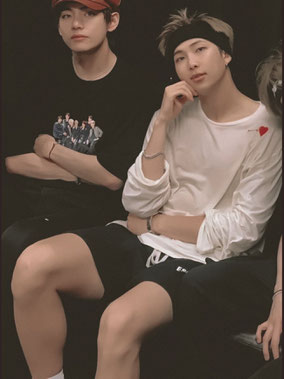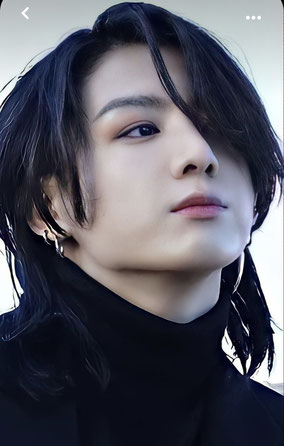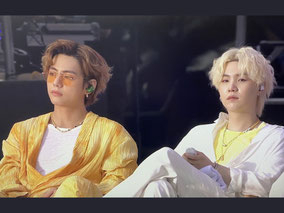 They are all wicked talents...
---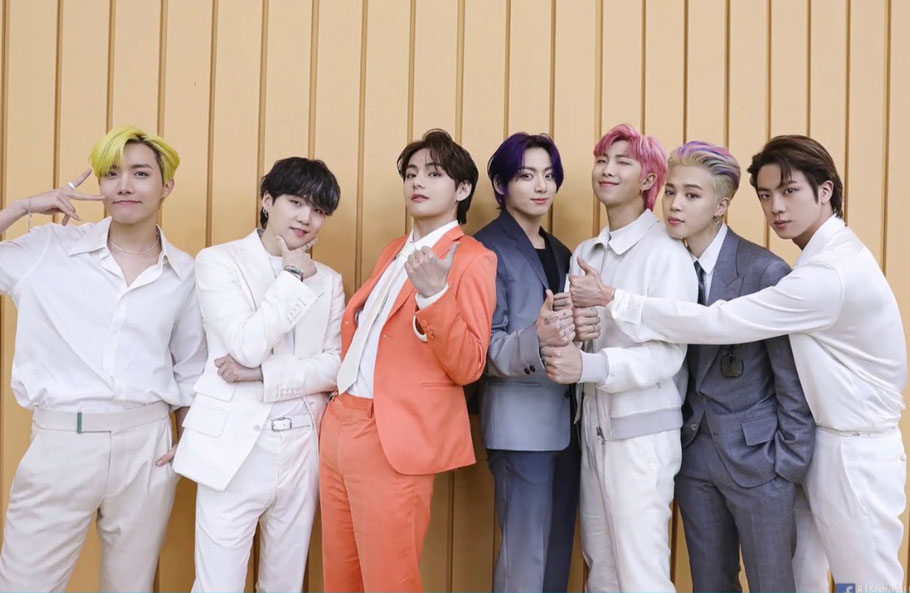 Da guys. The more I watch and listen, to these guys and about these guys, the more impressed I am by their talent, the creativity of their work,  the heart they bring to their music and interactions. With each other, with their fans, with us all. Each and together. Truly.
Do I have a fav? Who's my bias?
How could I choose among this bunch? They are all good looking, good movers, warm... Biases each.
Reasons why each would be a fav. 
That's love x7. Big love.
Okay, I'm going to start my page on Taehyung. :) He is irresistable. 
He brought me home to the Bangtan Boys. 
---
I'll drop a link to a BTS Concert performance.
Just ran across it and love Boys in Luv.