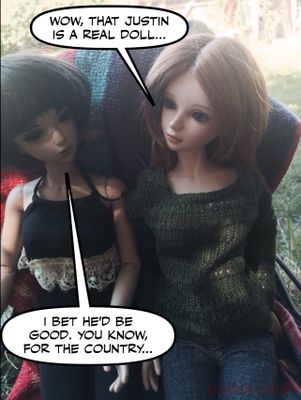 Yes, there are lots of opinions about Justin Trudeau...possibly the next Prime Minister of Canada.
I've always liked Justin. Liked his dad too...
I haven't paid a lot of attention as Justin moved closer to this possibility.
But now I'm a little excited at the possibility...the positive, inclusive, warm attitude he has, the feisty and fair repartee, the shenanigans showing he is up for stuff. And he is curious, and appreciative... 
And that's some family history!
He's walked the halls.
My friends here seem to think they'd like him too.
I have other friends, with other opinions, of course. Some are about as left as people can get without falling off. So they figure, Justin is going to do too much of that regular Liberal stuff. Compromise, etc.  And these friends have freaked me right out talking about Harper and what he has done. I thought he was doing mostly the right thing but maybe I should have paid more attention.
Oh well, a few more days.
I told one committedly political friend that I will vote strategically.
You know... move on out, Stephen. Period.
But when I get there will I vote for Justin? 
WHERE is my cat face emoticon....